"Sigh. So much to do, so little time."
Wait, scratch that.
"Yea! So much to see/explore/experience/discover, let's make the time!"
Seriously, there is a big beautiful world out there to explore. But we aren't taking the time - our time - to enjoy it. At least, that's what the data is showing.
On National Plan For Vacation day (yes, it's a thing), we feel it's our duty to encourage you to take a break. Even if just for a long weekend. And especially if it's to explore more of your own beautiful backyard.* Just because you live in Idaho, doesn't mean you shouldn't also visit idaho*. Need some inspiration for your 2018 vacation planning? Here are a few of our crew's favorite gems in their own words:
Chad: Stanley Lake campground is a favorite - lots of water for the kids and dogs to play in and tons of hikes to wear them out. You can't beat the Sawtooths for a backdrop or a drive along the Salmon River to hit a hidden or not-so-hidden hot spring to break up a drive to the next spot. Also love the area around Salmon, which has some great places to eat.
Tip: Check out Odd Fellows Bakery has some amazing breakfasts and sandwiches on some seriously kickass bread. Junkyard Bistro is another favorite - can't go wrong with anything on the menu. I also make one of my kids order the Nutella sandwich so I can steal a few bites.
Lynda:Red Fish Lake Lodge in Stanley. Great music on the lawn in the summer Wednesday, Friday and Sunday evenings. It's great to sit outside with a cocktail, listen to music and enjoy fabulous scenery. Middlefork rafting. solitude and scenery can't be beat, Booking a guided trip with a great rafting company that prepares all of your food and sets up camp is the way to go. You get to meet some great people from all over the world and you share an amazing experience that lasts a lifetime
Tip: Check out RaftIdaho to help decide on your guided trip!
Tracy: Our family loves the Driggs and Victor area for our vacation adventures. It's fun to stay at the Teton Springs Lodge in any season, but I enjoy the summer the best.
Tip: The Grand Teton Brewery is great any and every day of the year, no matter the season.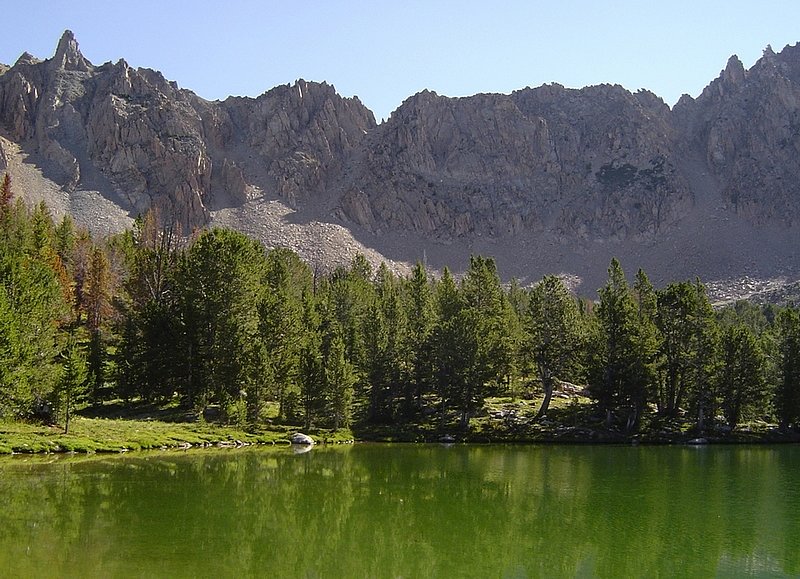 Bryan: Enjoy some pristine Idaho mountain air and beauty with a weekend backpacking trip to the Born Lakes in the White Cloud Mountains. Pack light, but bring a camera for the stunning views (and occasional mountain goat sighting) and your fishing rod for the catch-and-release rainbow and cutthroat trout.
Tip: After reemerging into civilization, drive to Ketchum to replenish all those calories burned through hiking with a burger and a schooner of beer at Grumpy's.
Julie: The Coeur d'Alene/Wallace area is beautiful and full of fun surprises. Taking a hike around Tubbs Hill in CDA, there are so many little pockets to walk down and have your own private space for a few hours enjoying the water and sunshine. CDA also has some great antique shopping for those that are less outdoorsy. Wallace lives up to the hype of a fun, quirky town. The bordello museum tour is fascinating and a must. Down in South Central Idaho,City of Rocks is amazing and something everyone should see at least once. Growing up with that as my extended back yard was pretty special.
Tip: Next to City of Rocks in Almo is the best unassuming steakhouse - The Outpost. It's humble and so delicious. One of the only places I'll order a steak at.
Jess: Our favorite adventures are to take a long weekend, load up
the trailer with dogs, food and gear and head out searching for a tucked away camp spot along some running water. We'll fly fish and paddle board wherever we can. This paddle was on Bear Valley Creek in Central Idaho - up past Lowman off Idaho 21. Another favorite drive is to turn onto 474 from Warm Lake Road and drive along the South Fork of the Salmon for great fishing and hiking turnouts. I also love discovering the little gems in whatever town we roll through - be it the perfect pastry (salt bagels at Stacey Cakes), one damn fine steak (Wolf Lodge), or luxury in unexpected places (The Harkness). Tip: Go to McCammon, stay in the Harkness, soak at Lava Hot Springs, grab Thai at the Riverwalk Cafe.
Gloria: Our family loves vacationing around Coeur d'Alene. It's a nice scenic drive from Boise and not too long for the kiddos. Head downtown and hit up Crafted for a sophisticated gastropub taste but super laid back feel. Rent a boat and cruise the lake! A fun place to dock the boat is at Carlin Bay. You can grab a drink and a bite to eat while enjoying a gorgeous view. If you're looking for quick and easy comfort food, grab a sammich at Meltz Extreme Grilled Cheese, order one of their specialities or create your own.
Tip: A visit to CDA isn't complete without a delicious Gooey at Dockside. Don't ask questions, just order one.
Amber: We love heading up Highway 55 to McCall to meet our family for a weekend camping trip. Our itinerary usually includes 4-wheeling through the mountains, grabbing a scoop of ice cream from Ice Cream Alley, renting a boat and spending an afternoon on the lake, and eating at the Mile High Marina.
Marissa: I like to unplug and head toward seclusion. I prefer to spend my days off wandering below the trees and sleeping under the stars. Idaho has taken my breath away multiple times, from the Sawtooths to the Boise foothills. After six years in Idaho, my favorite vacation days are spent discovering a new corner of the state that I have yet to explore.
Make the time, Idaho. Dream it, plan it, explore it. Let's all pledge to take advantage of those vacation days and this beautiful part of the world we call home. Check out visitidaho.com for more ideas and inspiration or download the free Idaho Travel Guide.
(*Full disclosure: We are proud to work with Idaho Tourism, the team behind the Visit Idaho brand. Even if we didn't have them as a client, we would still tout the heck out of this place because it is that awesome.)
Photo credits: Idaho Tourism, Jess Flynn, Marissa Lovell